Skip to content
Fame Tate (née More)
Former Professional Golfer and Golf Coach
Class of 1999
Fame is a former Professional Golfer and played at an international level for over ten years. After her retirement due to injury, she set up a Golf Academy in Sheffield and now coaches golf at all levels.
Tell us a bit about your career after leaving Sheffield Girls'.
As a child I absolutely loved sport, and still do! I started playing golf at the age of ten when I became a junior member at Chesterfield Golf Club.  I played through all the various stages, from club golf, to playing for the Derbyshire Girls and Ladies Teams. I became good at golf very quickly and at the age of fourteen I was selected to represent the England Under 18 girls team.
I went on to represent England for a total of nine years and Great Britain and Ireland for five years. I represented Great Britain and Ireland in The Curtis Cup (the amateur equivalent of The Solheim Cup) in 2002 and 2004 and in The Vagliano Trophy in 2001 and 2003.
In 2004, I turned professional with a handicap of +5. I played across the world achieving top ten places at competitions including the Shanghai Open, Deutsche Bank Swiss Open and Beijing Open.
Sadly, I had to retire fully as a playing professional from the tour in 2010 due to a right shoulder injury. Since that time I have had over a dozen surgeries and eventually having to have my right shoulder joint replaced three times.
In 2012, I started the Fame Golf Academy at Tapton Park Golf Course, with the main focus of getting more ladies into golf.  The whole idea behind the sessions was coaching in a fun and relaxed environment, alongside other females of a similar ability, with a female coach. 
In 2016 I became the Ambassador for Derbyshire Golf and have worked on a number of projects as a community golf coach, and in 2018 moved to Barlborough Links Golf Course.
I live in Chesterfield with my dog called Lucky and although I have had the opportunity to travel the world with my career, coming home has always been important to me.
What have been the biggest challenges in your career?
I have experienced lots of physical aches and pains throughout my life. However, when I was in the German Open in Munich, I can still remember to this day feeling physically sick whilst hitting golf balls due to the pain in my right shoulder. I knew then that there was something really very wrong. I was 29 and literally felt like the rug had been pulled from under my feet. All I knew was golf and so I had to do an awful lot of soul searching and seriously reassess my situation.
This time in my life was extremely hard and I cannot even begin to put into words what it made me learn about myself and how tough and resilient I had to be. I am not one to wallow in self-pity but it would have been easy to allow it all to get on top of me. However, I am a strong believer that things happen for a reason. I love my job and am very happy.
What advice would you give pupils at Sheffield Girls' today?
Education is so important! I have learnt that the hard way. Yes, I had qualifications but career wise I put all of my eggs in one basket, which I had to do and many of you will also do.
However, sometimes life can throw a bit of a curve ball and you may need to be open and flexible to change. I have had to re-train and do many different qualifications and courses to be where I am and able to do what I do today. I never thought that at 35 years of age I would be studying for another degree but I absolutely loved every minute of it and testing myself.
Someone said to me in 2012 when I was at a real cross-roads career wise: "SEAT" 'Stop Everything And Think". This has stuck with me since then and I think many of us at various stages in our lives, whether it's choosing A levels, what you want to study at university, what job you would ideally want, could benefit from those four words.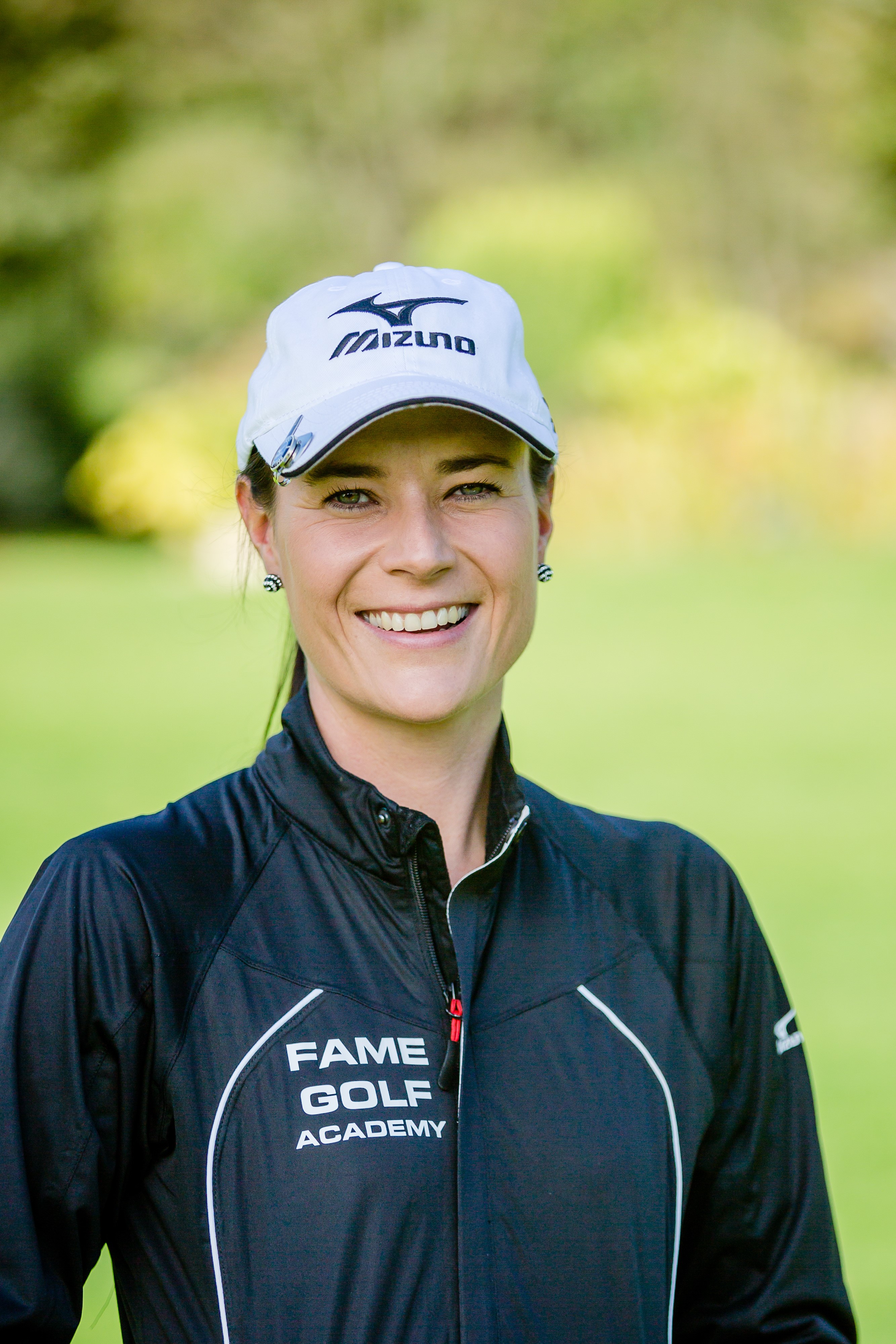 A-levels:
Biology, Geography, Sports Studies and General Studies
University:
Physical Education and Sport and Exercise Science at Loughborough University; PGA Foundation Degree in Professional Golf at The University of Birmingham